1. Enter your Hotspot's local IP into any web browser.
The first step is to find your Hotspot's local IP address. This IP address should be in a IPv4 format. There are 3 common ways to find your Hotspot's IP address:
Press and hold the BT pair button on the back of your Hotspot for 3-5 seconds.
Wait until LED 1 (first red LED after green LED) becomes solid red.
Open your Helium or Linxdot Hotspot app and locate your Hotspot's profile.
Click the   icon on the top right corner of your Hotspot's profile.
Click the 'Pair' button under "Update Wi-Fi or Run Diagnostics" section.
If "Step 2" is carried out correctly, your Hotspot should appear in the search.
After pairing, generate a Diagnostic Report and you will find your Hotspot's IP address.
Enter your router's IP address into any web browser (IP is normally on a sticker at the back of your router).
Navigate to the 'connected device' list.
Find your Linxdot Hotspot by looking for the MAC address (can be found on a label on the back of your unit).
These are merely suggestions, download at your own risk.
2. Login with username and password.
Once you enter your Hotspot's local IP in a web browser, you will be directed to the login page below: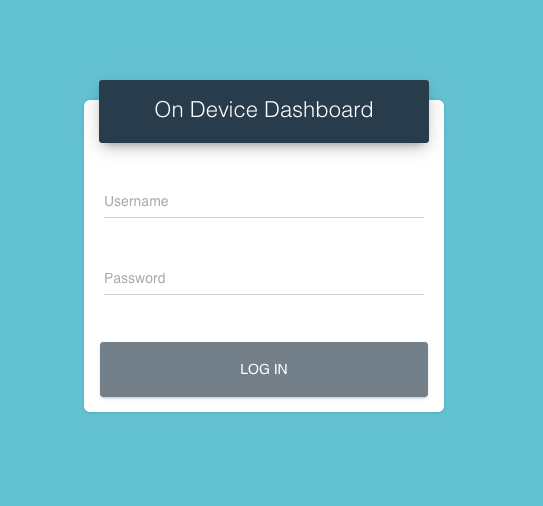 Figure 1. Rockchip Dashboard Login UI.
An example login would be:
Username:

 admin
Password:

 LD1NTV01030637
After your first login, the web page will prompt you to setup a new password. 
Please keep a record of this password as you will NOT have the option to change it again.
If you are unable to access your Rockchip Hotspot's web dashboard via its local IP, please double-check your computer/phone/tablet is also connected to the same internet network as your Hotspot.
If you just received a newly shipped unit, your Hotspot is most likely running on an older firmware which the dashboard function has not been included yet.
In this case, please power and connect your Hotspot for more than 24 hours uninterrupted to receive the OTA (over-the-air) update.
Please get in touch with us at [email protected] with the subject "ODD Login".
Include your Hotspot's animal name and MAC address so we can remotely access your unit to reset your login credentials.